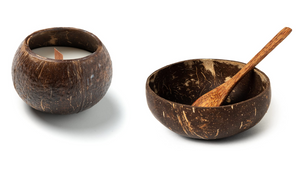 Please Click Through The Tabs For Additional Info
We love finding great products made from items that would have been otherwise thrown away. Our coconut bundle is the perfect gift for the eco-conscious. The bundle consists of a coconut bowl and spoon, brilliant for fruit and morning smoothies with a soy wax coconut candle (you can pick from lavender, Jasmine or Mixed Berries).
- Roughly a 40-50 hour burn time.
- Candle Weight: 350-400g, Size (Average): 11x11x8cm
- Bowl Average: 12 cm diameter.
- Do not use shell in microwave or dishwasher
- Made from soy wax with wooden wick.
- Made from discarded coconut shells.
- Candle Made In China.
- Bowl and Spoon Made in Vietnam.
The coconut shell is sanded down so the hairs are removed. The tip is then filed to give a bowl like appearance, any edible insides are then carved out and the inside is sanded down. The coconut bowls are polished in coconut oil giving them a smooth finish.
Soy wax is produced from soy bean oil. The soybean is harvested and then a 4 stage process is undertaken: cleaning, cracking, re-hulling and rolling. Once this has taken place the flakes are pressed and hydronated to solidify at room temperature.
We only ship using biodegradable recyclable packaging. 
All of our items are sent first class using the UK's royal mail delivery service and is calculated based on your purchased items weight at the checkout page. For further details please check the delivery info section on top of this page.
Customer satisfaction is one of our upmost priorities. If you have a problem with your ordered items please do not hesitate to contact us and we will do out best to solve the issue.
We accept returns for a full refund or exchange for any reason within 30 days of purchase. Unfortunately, we cannot accept any exchanges or refunds after these 30 days have passed.