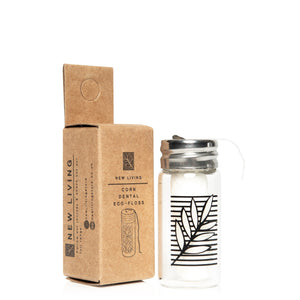 Please Click Through The Tabs For Additional Info
Most plastic dental floss is made from nylon or Teflon – neither of which is biodegradable. Thankfully, we don't need to sacrifice the environment (and the plumbing in our home) to keep up a good dental hygiene habit.
Our corn dental floss come in glass jars with a metal lid and measures out to 30m Once you use up your floss, you can order the next one without packaging and insert it in the jar you've used for your previous floss.
-Reusable steel and glass container.
-30m of floss.
-Peppermint Flavour.
-Biodegradable.
-Vegan Friendly.
Corn dental floss is made from PLA – a material which is classified as plastic, but comes from plants (in this case, corn), biodegrades quickly and can be composted. The floss is coated with candelilla wax similarly to the bamboo charcoal option, which means that it's fully natural and 100% vegan.
How is corn converted into PLA? This involves the creation of a polymer (material with plastic-like properties) from the starch in corn. Contrary to normal plastic, no crude oil or other fossil fuels are used, which also helps avoid the release of many toxic chemicals into the environment.
We only ship using biodegradable recyclable packaging. 
All of our items are sent first class using the UK's royal mail delivery service and is calculated based on your purchased items weight at the checkout page. For further details please check the delivery info section on top of this page.
Customer satisfaction is one of our upmost priorities. If you have a problem with your ordered items please do not hesitate to contact us and we will do out best to solve the issue.
We accept returns for a full refund or exchange for any reason within 30 days of purchase. Unfortunately, we cannot accept any exchanges or refunds after these 30 days have passed.