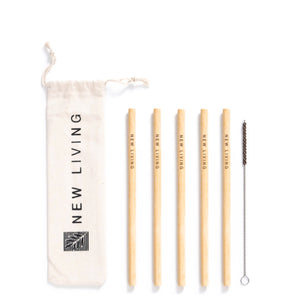 Please Click Through The Tabs For Additional Info
Blogs:
Our bamboo straws are made from completely natural and organic material. The straws have been handcrafted and are naturally formed without the use of harmful pesticides, chemicals or toxic substances. 
500,000,000 plastic straws are used each day in the United States alone. Most of these end up in our environment, polluting our oceans and hurting our planets wildlife. Our bamboo straws can be a lightweight weight convenient solution to this problem. Simply keep one with you, in your bag or pocket. So, whenever you need a straw you have one handy. 
Key Info
-Straws 20cm in length
-100% Biodegradable
-Diameters range so you can use for shakes as well as juice
-Straw cleaner provided
-Come with a carry case for travel
-Made from organic bamboo
-Dishwasher safe
These are perfect to take out with you and look great in cocktails.
Manufacture
Our bamboo straws are made from handpicked organic bamboo plants. The right diameter plants are harvested and left to dry in the sun for several days. The dried bamboo plant is then taken to the factory where it is cut down to size and sanded for a smooth finish. After this the straws are placed in hot water to soak and soften for 6-8 hours. The straws are then died in the sun for another 2 days. The final stages of the process include sanding and polishing to ensure both tips of the straw are smooth.
We only ship using biodegradable recyclable packaging. 
All of our items are sent first class using the UK's royal mail delivery service and is calculated based on your purchased items weight at the checkout page. For further details please check the delivery info section on top of this page.
Customer satisfaction is one of our upmost priorities. If you have a problem with your ordered items please do not hesitate to contact us and we will do out best to solve the issue.
We accept returns for a full refund or exchange for any reason within 30 days of purchase. Unfortunately, we cannot accept any exchanges or refunds after these 30 days have passed.